RUPAUL'S DRAGMANIA
ル・ポール好きに送る
新宿二丁目発クラブパーティ
「ル・ポールドラァグマニア」!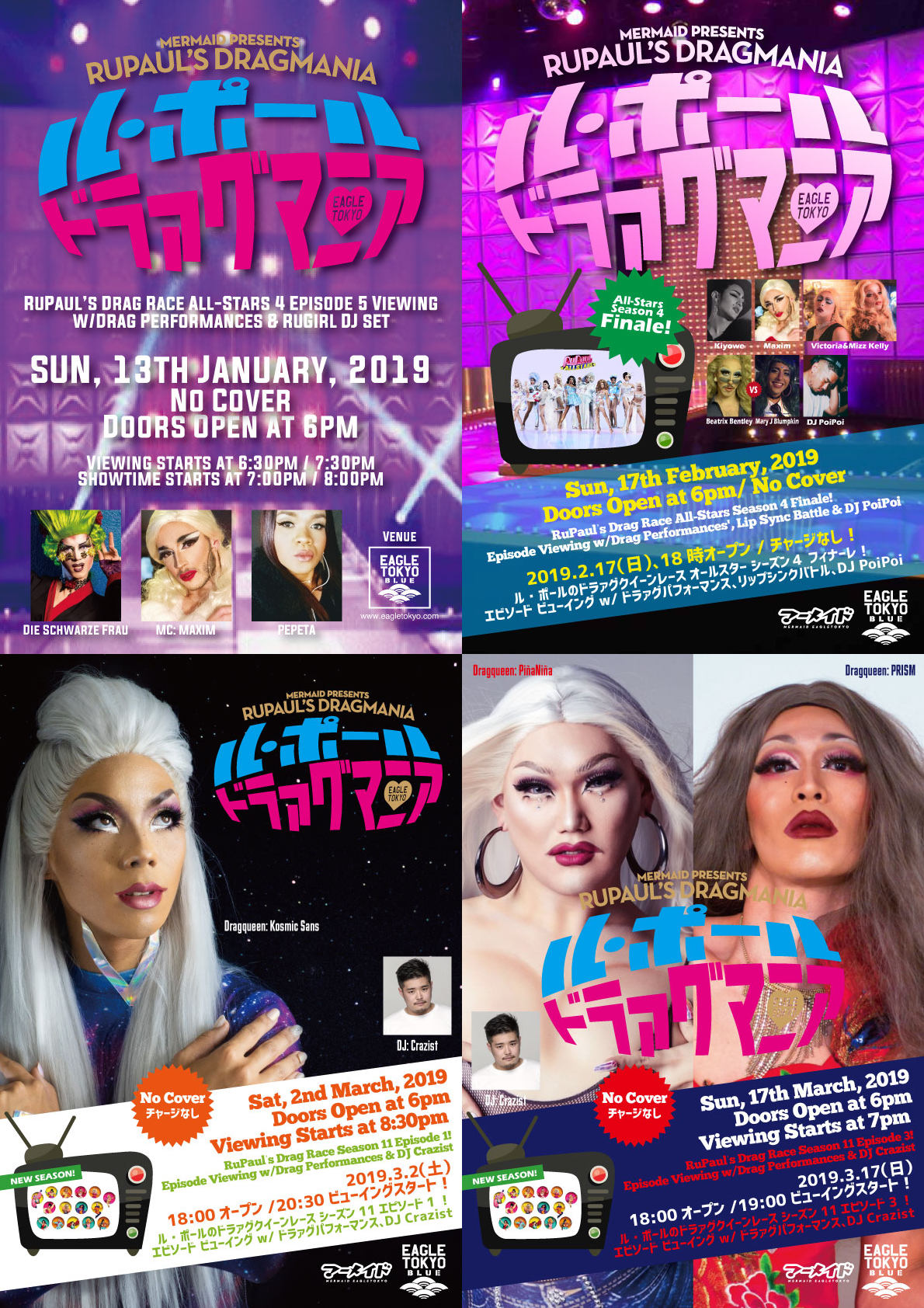 エミー賞受賞が記憶に新しい米テレビ番組の「ル・ポールのドラァグレース」。ドラァグクイーン達が数々の難題に挑戦し、時には笑い、涙し、ののしり合い、助け合い、脱落し、そして成長しながら次世代のドラァグスーパースターを目指します。日本でもNetflixで全エピソードが放送開始されるなど、大変な盛り上がりを見せており、今最も熱いLGBTコンテンツと言えるでしょう。

「ル・ポールドラァグマニア」では、この「ル・ポールのドラァグレース」最新エピソードを鑑賞し、ドラァグクイーンや番組恒例の「リップシンクバトル」などのショー、DJセットを楽しむクラブイベントです。お気に入りのクイーンを決めてみんなで応援しよう!

不定期開催、18歳以上ならどなたでも入場できます。
A party for all lovers of drag and RuPaul's Drag Race, in the heart of Shinjuku No-Chome, Tokyo's Gay Capital!

RuPaul's Drag Race is the Emmy-winning competition TV series that joins legendary queen RuPaul on her search for America's Next Drag Superstar! The show has launched the careers of a new generation of drag superstars. We follow them through a number of challenges where we see them laugh, cry, fight, work together and eventually sashay away one by one until we crown a champion. It's definitely the hottest LGBT content right now, but is enjoyed by absolutely everyone.

RUPAUL'S DRAGMANIA is a club event where you can watch the latest episode of RuPaul's Drag Race with your friends and a crowd of fun-loving fans. You can also enjoy performances from local drag performers, great DJs, special themed cocktails, and even enter a lip sync battle of your own! Decide your favorite queen and come along to cheer her on!

For event dates, check this site. All adults are welcome at this event.

NEXT PARTY
2019.7.7. SUN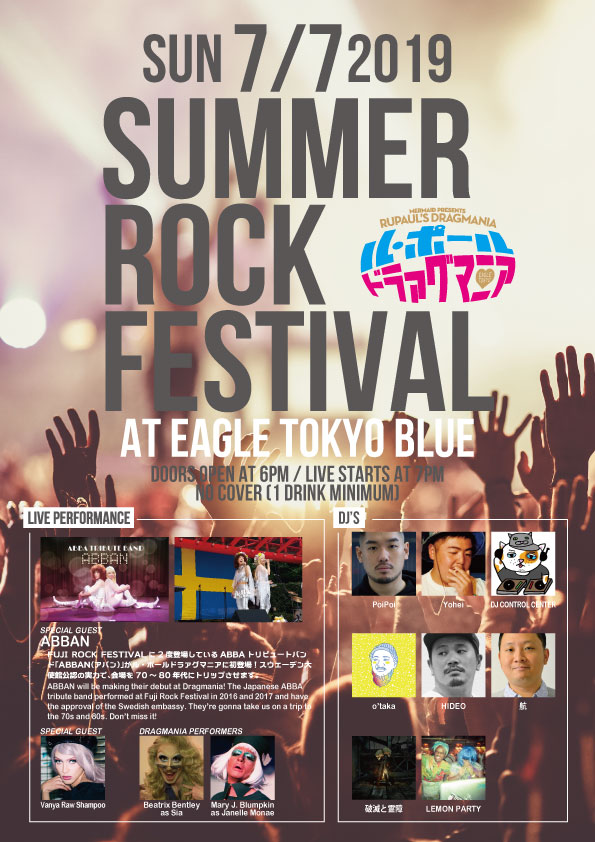 ARE YOU READY FOR THE SUMMER?

マルチジャンルのサマーロックフェス、EAGLE TOKYO BLUEにて開催!
音楽、ドラァグクイーン、DJ、ライブミュージック、酒好きは必見!もちろん友達と一緒に楽しい時間を過ごすだけでもOK!

フジロックフェス、サマーソニック、ロックインジャパンなど数々のフェスをトリビュート。
そして、すべて無料でお楽しみいただけます!(1ドリンクお買い求めください)
18歳以上ならどなたでも入場できます。

ライブパフォーマンスは、フジロックに2度も出演したスウェーデン大使館公認ABBAトリビュートバンドABBAN。

ドラァグショーは、予測不能、ハイテンションの次世代クイーンVANYA RAW SHAMPOO
そしてル・ポールドラァグレースがオフシーズンの今、この企画のため特別に、ドラァグマニアクイーンBEARTRIX BENTLEYが"SIA"をMARY J. BLUMPKINが"JANELLE MONAE"を演じます!

さらに豪華DJ陣はなんと8組!POIPOI, YOHEI, DJ CONTROL CENTER, HIDEO, O'TAKA, 航, 破滅と霊障、LEMON PARTYがメインフロアと龍宮それぞれのフロアに分かれてプレイ!
!サマーフェスさながら会場を渡り歩いて楽しむことができます。もちろんロックだけでなく、ヒップホップ、テクノ、EDM、インディーズ、ポップミュージックなど満載です!

ARE YOU READY FOR THE SUMMER?

EAGLE TOKYO BLUE is opening its doors for a multi-genre SUMMER ROCK FESTIVAL party and you're invited!

The party is for anyone who loves music festivals, drag queens, DJs, live music, drinking booze, or just having a great time with their friends!

Like Fuji Rock Festival, Summer Sonic and Rock In Japan Festival, our line up is stacked full of diverse, international entertainment. Best of all, this party is FREE (with at least one drink order).

LIVE PERFORMANCE BY ABBAN.
DRAG SHOWCASE BY VANYA RAW SHAMPOO. This up-and-coming drag queen is gorgeous, unpredictable and full of energy. Be sure not to miss this special guest performer.

DRAG QUEEN PERFORMANCES:
RuPaul's Drag Race is off-season right now, but our favorite DRAGMANIA queens will be performing rock festival-related sets just for you, including BEATRIX BENTLEY as SIA and MARY J. BLUMPKIN as JANELLE MONAE.

SUPREMELY TALENTED DJS:
Both the main dancefloor and the RYUGU will be open, so you'll be making difficult choices all night about which DJs to watch. Just like any good music festival, our line-up includes all genres, from rock, hip-hop and house, to techno, electronica, indie and pop. Some of Tokyo's best gay DJ talent will be representing, featuring DJ POIPOI, YOHEI, DJ CONTROL CENTER, HIDEO, O'TAKA, WATAPON, 破滅と霊障 and LEMON PARTY.