RUPAUL'S DRAGMANIA
ル・ポール好きに送る
新宿二丁目発クラブパーティ
「ル・ポールドラァグマニア」!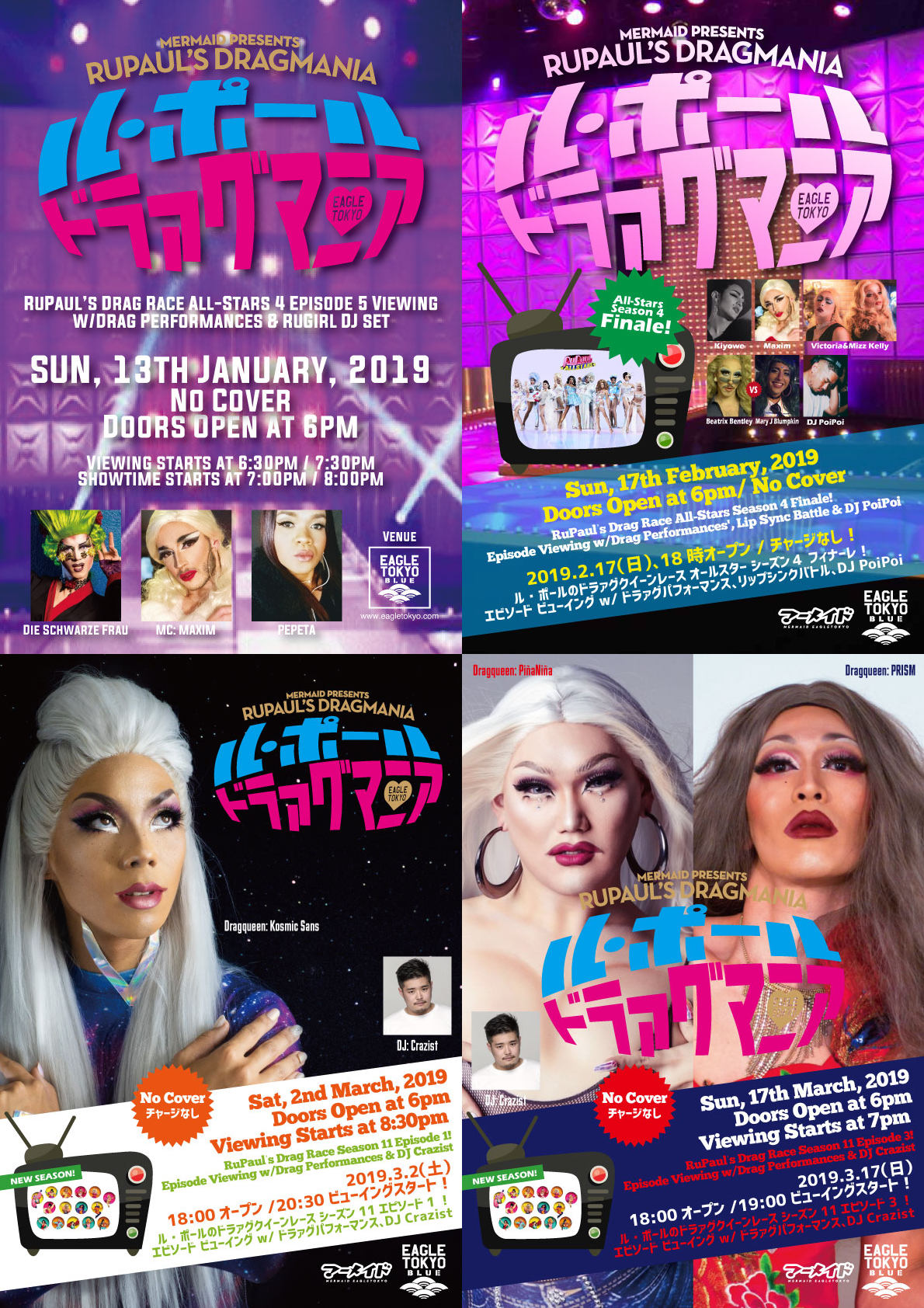 エミー賞受賞が記憶に新しい米テレビ番組の「ル・ポールのドラァグレース」。ドラァグクイーン達が数々の難題に挑戦し、時には笑い、涙し、ののしり合い、助け合い、脱落し、そして成長しながら次世代のドラァグスーパースターを目指します。日本でもNetflixで全エピソードが放送開始されるなど、大変な盛り上がりを見せており、今最も熱いLGBTコンテンツと言えるでしょう。

「ル・ポールドラァグマニア」では、この「ル・ポールのドラァグレース」最新エピソードを鑑賞し、ドラァグクイーンや番組恒例の「リップシンクバトル」などのショー、DJセットを楽しむクラブイベントです。お気に入りのクイーンを決めてみんなで応援しよう!

不定期開催、18歳以上ならどなたでも入場できます。
A party for all lovers of drag and RuPaul's Drag Race, in the heart of Shinjuku No-Chome, Tokyo's Gay Capital!

RuPaul's Drag Race is the Emmy-winning competition TV series that joins legendary queen RuPaul on her search for America's Next Drag Superstar! The show has launched the careers of a new generation of drag superstars. We follow them through a number of challenges where we see them laugh, cry, fight, work together and eventually sashay away one by one until we crown a champion. It's definitely the hottest LGBT content right now, but is enjoyed by absolutely everyone.

RUPAUL'S DRAGMANIA is a club event where you can watch the latest episode of RuPaul's Drag Race with your friends and a crowd of fun-loving fans. You can also enjoy performances from local drag performers, great DJs, special themed cocktails, and even enter a lip sync battle of your own! Decide your favorite queen and come along to cheer her on!

For event dates, check this site. All adults are welcome at this event.

NEXT PARTY
2019.8.25. SUN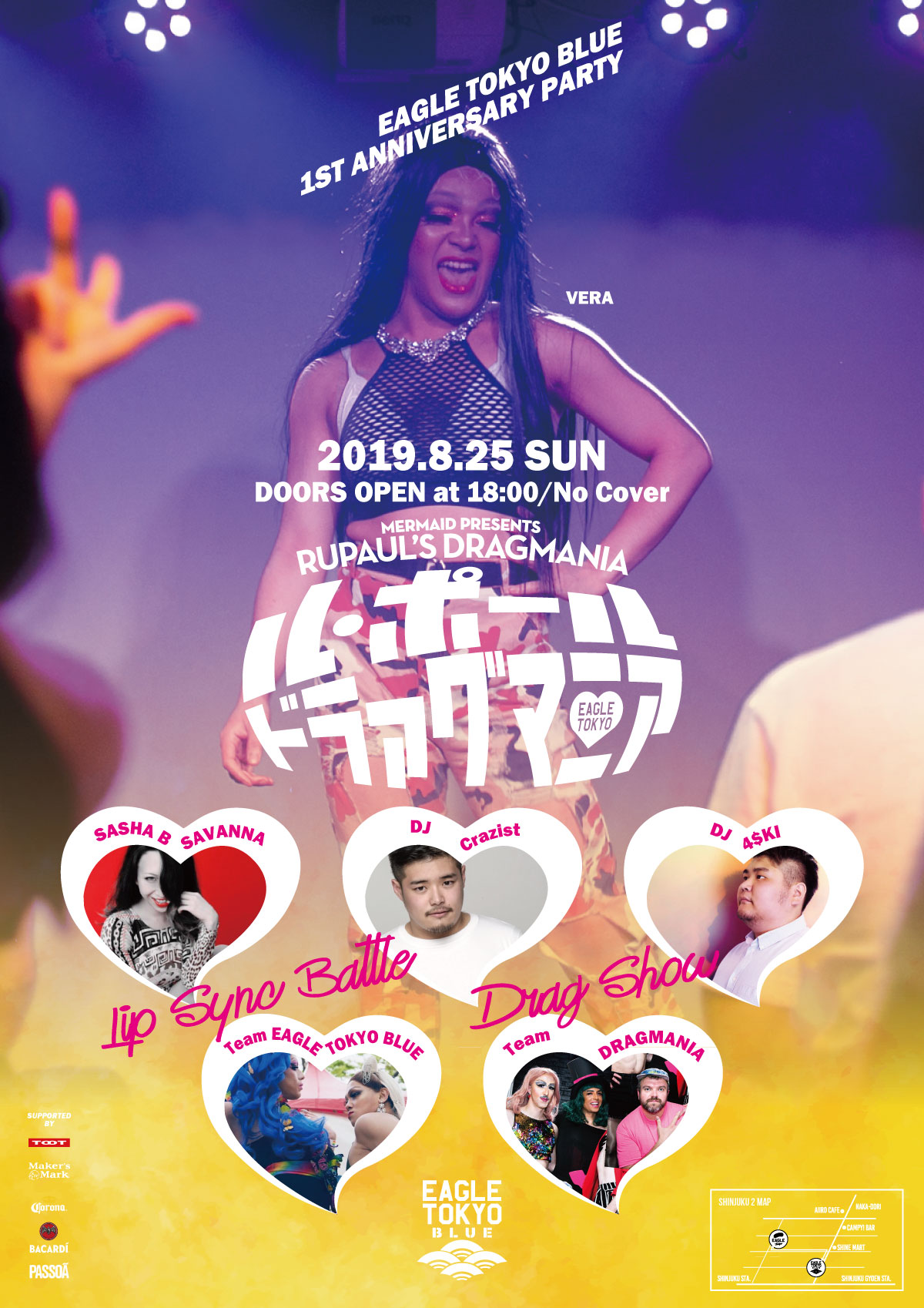 EAGLETOKYO BLUE 1st ANNIVERSARY PARTY!!

DRAGMANIA開催会場のEAGLETOKYO BLUEもお陰様で一周年!
6日間に渡るアニバーサリーイベントの一つとして、DRAGMANIAを開催します。

今回は、DRAGMANIAに出演するBEARTRIX BENTLEY、MARY J. BLUMPKIN、さらにはTHE CLITORIOUS V.A.G.のチームと、
EAGLETOKYOのスタッフによるVera Strondh、Veronika Vetrum、MayaがTEAM EAGLEとなって、リップシンクバトルやショーケースを行います!

ゲストドラァグクイーンには、SASHA B. SAVANNAHが登場!!ビヨンセさながらの彼女のショーケースをお見逃しなく!

さらに、DJにはTOP40からR&B、HIPHOP、Vocal Houseを得意とするCrazistと4$KIがプレイします。 お馴染みのナンバーから、懐かしのあの曲までを網羅するプレイで盛り上がること間違いなし!!

ルポールドラァグレースも新シーズン発表間近、エンジン温めておきましょう!

もちろん、入場料はかかりません!(1ドリンクお買い求めください)
18歳以上ならどなたでも入場できます。

Thanks to your support DRAGMANIA's venue EAGLE TOKYO BLUE is celebrating its 1 year anniversary!

As part of a 6-day anniversary event, we will be holding a very special DRAGMANIA party on Sunday, August 25th.

This event will feature special drag showcases and lipsync battles by TEAM DRAGMANIA (Beatrix Bentley, Mary J. Blumpkin & The Clitorious V.A.G.) and TEAM EAGLETOKYO (Vera, Veronika Vetrum&Maya).

We will also have very special performances by SASHA B. SAVANNAH, Tokyo's very own Beyoncé!

DJ's Crazist and 4$KI will be spinning a mix of r&b, hiphop, top 40 and vocal house to keep you all dancing.
We will also be starting our engines and getting ready for the brand new series, RuPaul's Drag Race UK!

As always, DRAGMANIA is free as long as you buy at least 1 drink. All genders, sexualities and races welcome. Anyone over 18 may enter.